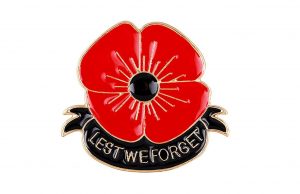 Each Remembrance Day deepens my commitment to making the most of every opportunity I get. 
It's the least I can do for those who sacrificed their futures for me; for the men and women who gave up the opportunities of a lifetime with families and friends, and for the dreams and achievements that were never realised.
This is my way of honouring them and showing my gratitude. It's the opposite of taking what I have for granted and wasting the time given to me for want of commitment and discipline.  
It's why I rise early, work long hours and do what I can to live a sustainable life building something that will positively impact the lives of as many people as possible.
Today we have the incredible privilege to develop our unique talents and skills. We do so to use them for the greater good, or at least we should. 
I can't think of a better way of honouring the gift of freedom that has been given to us at tremendous cost.
And unlike those whom we remember on this day, we have the added privilege of being able to see and experience the impact of our efforts, and enjoy the rewards of our labour. That, too, is a gift. 
So let's make the most of today, while it is still today.